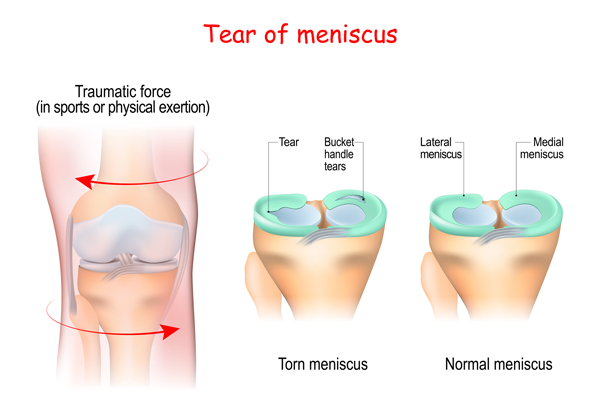 Did you know that a meniscus tear is one of the most common knee injuries in active adults? For athletes and young adults, meniscus injuries can result from trauma in contact sports like skiing, soccer, volleyball or football.
The meniscus is a cartilage pad in your knee joint that acts as a shock absorber. This can be torn due to a twist or sudden turn affecting the knee joint. A torn meniscus can cause intense pain, inflammation, limited mobility, and a locked knee.
Depending on the severity of the tear, some meniscus injuries may be treated using the RICE method, anti-inflammatory medication, or physical therapy. However, when conservative treatments fail to work, surgery is often indicated.
The good news is that meniscus surgery has a high success rate of 60-90%. Surgical techniques today are more effective with innovative and improved technology that can include AI, biologics and arthroscopy.
Check out the top three patient benefits after meniscus repair surgery:
Elimination of pain
Meniscus surgery works to repair the damaged cartilage and encourage healing. This has been shown to improve symptomatic knee pain.
Reduce the risk of further injury
Repairing the meniscus ensures better stability and cushioning of the knee. Surgical repair can decrease the risk of future injury, especially for athletes and weekend warriors. Corrective surgery can help prevent the development of arthritis and joint damage.
Return to an active and healthy lifestyle
Many studies have shown that injured athletes have about 70-74% return to play after meniscus repair surgery.1,2 Ultimately, meniscus repair increases stability and mobility in your knee joint so that you are able to return to the daily activities you love.
Surgery can be the best option for your joint health after suffering from meniscus tear. In fact, most athletes can return to sports after corrective surgery.
If you or a loved one has damaged their meniscus, contact Dr. Anup Shah for an expert diagnosis.
Author:
Dr. Anup Shah is a board-certified, fellowship-trained Sports Medicine Orthopedic surgeon specializing in Knee and Shoulder Surgery in Phoenix, Arizona at Banner Health. Dr. Shah uses a patient-centric, evidence-based approach to help his patients achieve their desired goals.