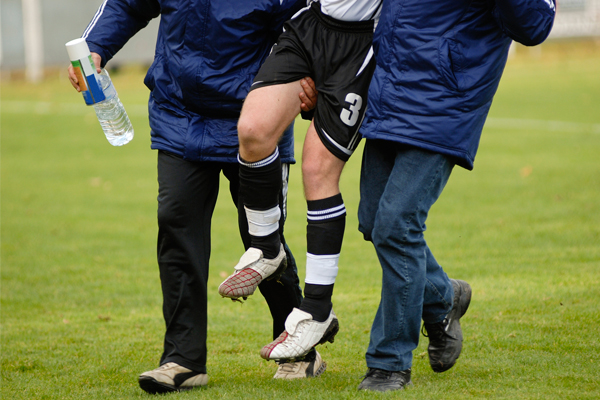 Did you know that knee injuries are amongst the most common sports injuries and are often preventable? Practicing prevention methods can help you avoid disruptive knee injuries that not only take you out of a sport but also impact your day-to-day life.
Here are some tips for preventing sport-related knee injuries:
Always stretch before a workout: It is important to stretch before any physical activity, but especially before an intense workout. Stretching will help to loosen your muscles and improve flexibility. This will help to prevent stiff and tight muscles that are more prone to injury.
Wear proper shoes: Wearing comfortable, flat, and well-fitting shoes will help you maintain proper alignment and balance. Any shoes with a heel should be avoided as it adds stress to your quads and increases your risk of a knee injury. Additionally, worn out shoes should be replaced regularly to ensure enough support.
Add weight training to your routine: Introducing weight training, especially with a focus on your legs, into your workout routine will help to increase muscle mass around your knee. Building up the muscle in your legs and around the knee will help stabilize your knee and prevent injury.
Utilize proper technique: Many knee injuries occur due to improper athletic technique. Thus practicing your form is an easy way to prevent most knee injuries.
Don't overexert yourself: It is important to know your limits when working out. Make sure to avoid overexertion and rest between workouts so that your body doesn't experience excess strain on the knee or fatigue.
Keep good posture: Bad posture such as slouching forward can put pressure on your knees and contribute to a weak core. Ideally, your core, shoulders, and head should all be linearly aligned to maintain good posture.
Sports-related knee injuries are often preventable if you train your body, utilize proper technique, and wear proper athletic gear. If you suffer from an athletic injury, Dr. Shah can help.
Author:
Dr. Anup Shah is a board-certified, fellowship-trained sports medicine orthopaedic surgeon specializing in Knee and Shoulder Surgery in Phoenix, Arizona at Banner Health. Dr. Shah uses a patient-centric and an evidence-based approach to help his patients achieve their desired goals.