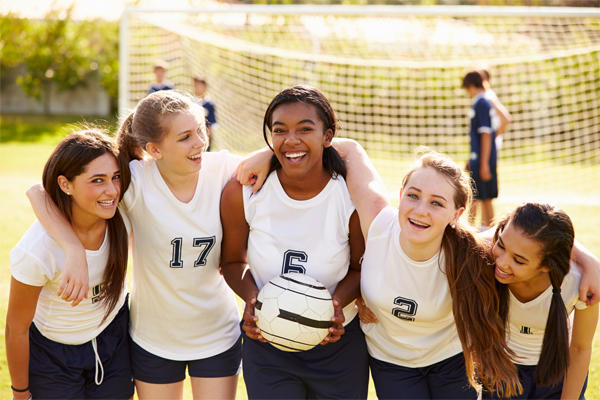 Did you know that anterior cruciate ligament (ACL) injuries are more common in adolescent age females and women? This is due to both the difference in knee structure and athletic technique between men and women. Females typically have looser joints and less muscle mass surrounding the knee allowing a larger range of motion and more instability. Furthermore, women athletes tend to land with their knees tilted more inward than men due to having a wider pelvis.
All of these factors make women more prone to ligament stretching and tearing in sports. There are a few tips to help female athletes prevent an ACL injury:
Improving Balance:
A majority of ACL injuries occur with a sudden change in direction or stop while running. Improving your balance your joint stability and thus avoiding unnatural twists in the knee during these occurrences.
Utilizing Proper Technique:
Practicing your form is very important to ensure your injuries aren't due to bad athletic technique. Although using proper technique cannot protect from all injuries, it can certainly help to prevent them.
Avoid Overworking:
Rest is so important for healing your body so that you can avoid injury due to overworking yourself and compromising your technique due to fatigue.
Strengthen Supporting Muscles:
Building up the muscle around the hips and knee is extremely important to avoid an ACL tear. This will allow for more stability in your knee.
Practice Flexibility:
Stiff and tight muscles and ligaments are far more prone to injury. Thus it is extremely important to stretch before a workout as well as in your off time to further improve your knee flexibility.
ACL pre-habilitation programs are a great way to build up your strength before your competitions. Practice these tips using various exercises and drills on your own. It is important not to wait until the season starts, to strengthen your ACL and the area that surrounds your knee. Remember to warm up consistently and properly. Get in shape before you play!
Author:
Dr. Anup Shah is a board-certified, fellowship-trained sports medicine orthopaedic surgeon specializing in Knee and Shoulder Surgery in Phoenix, Arizona at Banner Health. Dr. Shah uses a patient-centric and an evidence-based approach to help his patients achieve their desired goals.