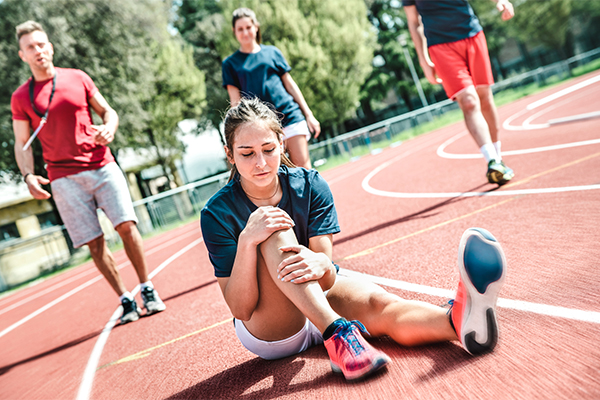 Did you know that 34 percent of elite athletes suffer from stress-related anxiety?¹ Athletes in particular are under an extreme amount of pressure to complete and perform. With April being Stress Awareness Month, we acknowledge how chronic stress can negatively affect an athlete's physical and mental health as well as performance.
Stress can significantly impact orthopedic injuries and the ability to make a comeback. The effects of stress on injuries can be seen at many stages of the injury process. Stress can increase the risk of injury, delay healing, and worsen the symptoms associated with the sports injury.²
As an athlete, you may experience a tremendous amount of mental and physical stress. The constant pressure of performing at your best can make an injury a substantial setback. Injuries can be affected by stress in a number of ways, including:
Increased Tension: Muscle tension can cause you to be stiff, affecting your coordination and performance.
Attentional Changes: Stress can cause you to be distracted and unable to focus.
Mental Fatigue: Feeling fatigued mentally can slow the thought process and make it hard to make a quick decision, resulting in injury.
Body Fatigue: Stress can wear you down physically, making it harder to perform.
When the body is under stress, it releases hormones such as cortisol and adrenaline. Chronic stress can cause an overproduction of these hormones, which can interfere with the body's ability to heal. Stress hormones can decrease blood flow to injured tissues, slow down the immune system response, and decrease the production of collagen, a protein that is essential for tissue repair. Stress can cause inflammation, which can exacerbate pain and swelling.²
Because of the demand for excellence in athletes, it is important for them to manage stress on a regular basis. This can involve relaxation techniques, such as breathing exercises and meditation, as well as lifestyle changes. Getting enough sleep, and maintaining a nutritious diet are essential for optimal performance and avoiding potential injuries.
By managing stress levels, you can reduce the negative effects of stress on injuries and promote a faster and more complete recovery. Dr. Anup Shah is committed to helping athletes get back in the game with an individualized treatment plan catered to your performance goals.
AUTHOR: Dr. Anup Shah is a board-certified, fellowship-trained Sports Medicine Orthopedic surgeon specializing in Knee and Shoulder Surgery in Phoenix, Arizona at Banner Health. Dr. Shah uses a patient-centric and an evidence-based approach to help his patients achieve their desired goals.
1. https://www.ncbi.nlm.nih.gov/pmc/articles/PMC4996886/